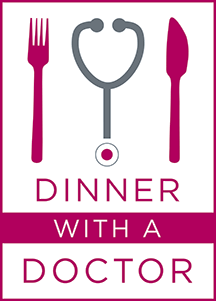 Frankfort Regional Medical Center is proud to bring you "Dinner with a Doctor". Join us for a free catered dinner and learn more about health issues that could be affecting you. Seating is limited and reservations are required. To reserve your space, please contact Consult-A-Nurse® at (502) 226-1655 or 877-FRMC-MD1 (877-376-2631).
"Oral, Head & Neck Cancer"
presented by Chad Ahn, M.D. (Otolaryngology)
Thursday, August 10, 2017
5:00 - 6:00 - Screening
6:00 - 7:30 pm - Dinner Presentation
Franklin County Senior Activity Center
202 Medical Heights Drive, Frankfort
Learn more about the risk factors, signs and symptoms -- particularly those caused from tobacco and alcohol use -- related to oral, head and neck cancer, and have the opportunity for questions and answers.
Dr. Ahn will also provide free oral, head, and neck screenings prior to the dinner presentation from 5:00 - 6:00 PM. Advanced registration is required for the screening, which is separate from the registration for the dinner presentation.